One Little Word® | My Word + January 2015
I often (always) try to challenge myself with new personal projects, that I'm eager to share with you all. Projects that speak to me, that excite me, make me want to move forward. Some of them are pursued, some of them abandoned.
This year, I'm keeping it up. My 1,001 resolutions/decisions/goals/ideas/dreams/aims (yes, all of this at once) scare me, worry me but also excite me, allow me to challenge myself, make me want to follow and go through all the worries and questions I've been asking myself. 2015 is going to be different. Professionally, personally. I don't know how, when, but choices, decisions, resolutions need to be made.
I've been wanting more and more to write about all those ideas. In a creative way. And as I am a huge Ali Edwards fan (hey hey! You in Europe! She's coming to teach with us at EA MTP, did you see?! Hurry up and sign up! Spots are filling up fast!), I signed up again for One Little Word 2015. I already signed up several times in the past and I guess I wasn't ready to follow through this project : I couldn't think. I couldn't mix words + photos.
I am now. SO ready.
I think the way I scrapbook is changing. I want to document. Write. Share. Tell.
Here I am again in this One Little Word adventure! My Word? LEARN.
LEARN. v. learned also learnt (lûrnt), learn·ing, learns
LEARN to say yes. LEARN to say no. LEARN to fight. LEARN to go on. LEARN to enjoy. LEARN to regret. LEARN to NOT regret. LEARN to love better. More.
LEARN to sew. LEARN to weave. LEARN to design. LEARN to write. LEARN to document. LEARN to share.
LEARN to see. LEARN to look. LEARN to tell. LEARN to think.
LEARN TO TAKE TIME.
Here are my pages for January.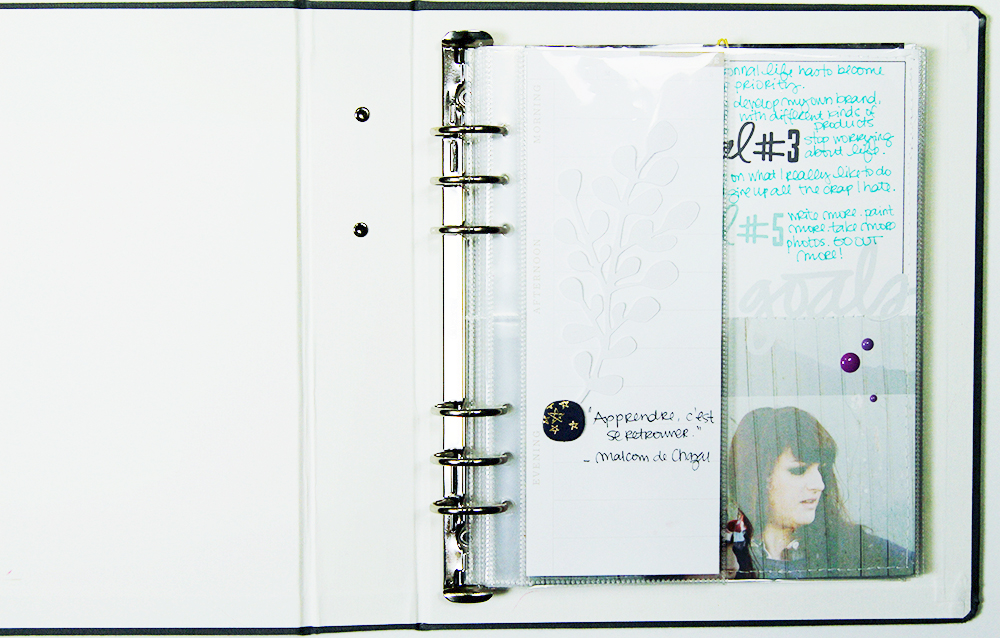 You can see that I'm both writing in French + English. I can't tell you why or when I decide to write in either language, but I think it's just the way it is.
I'm going to let my word sink in. I feel it's going to be important. And after watching February video, I am even more INSPIRED. You an still sign up here, by the way.
Have a lovely sunday everyone!